About Simucase
Simucase is a competency-based online learning platform that elevates students' learning, improves their critical thinking, and helps them prepare for their future careers. Our innovative technology facilitates online learning in a safe virtual environment.
Simucase connects users to videos and simulations based on real people's stories. Students in multiple professions encounter patients and/or clients from a variety of backgrounds, navigate the decision making process, and receive real-time feedback.
The Simucase Team

Stacy L. Williams, PhD, CHSE
Chief Executive Officer
Stacy Williams, PhD, has worked in the field of speech-language pathology for over 25 years. She is the founder of Simucase and Chief Executive Officer of LaCalle Group, the parent company of Continued and Simucase.
An expert in simulation-based education, Stacy's ongoing research focuses on integrating this cutting-edge technology into personalized learning applications for a variety of allied health professions.
Stacy earned her bachelor's, master's and doctoral degrees in communication sciences and disorders from the University of Cincinnati. She is an adjunct associate professor at Case Western Reserve University and has served the communication sciences and disorders profession in local, state, and national leadership roles. She was elected a Fellow of the American Speech-Language-Hearing Association (ASHA) in 2020 and has served on the board of the ASHFoundation since 2017.
"Every day I get to do what I love — develop innovative online technology applications for the allied health professions that provide a valuable service and resource to clinicians across the world. I'm proud to be a part of that innovation and to work with such talented people."

Katie Ondo, MA, CCC-SLP, CHSE
Director, Operations
Katie has been creating computer-based simulations for Simucase since the program's launch. She is a Certified Healthcare Simulation Educator who specializes in medical simulation and the use of simulation for student and family training. She brings a wealth of clinical experience to her role as Editor in Chief. She also serves as a pediatric speech-language pathologist at Cincinnati Children's Hospital Medical Center, where she specializes in acute care. Katie is a graduate of Miami University in Oxford, OH.
"Working with the clients is very rewarding. I love to tell the client's story within a simulation and know that we are having a positive impact on the training and education of our users."

Clint Johnson, MA, CCC-SLP, CHSE
Vice President of Simucase Education
A graduate of the University of Georgia with a master's of fine arts in Communications Sciences and Disorders, Clint has more than 21 years of experience as a speech-language pathologist and 14 years experience in product development and marketing of speech-related products. In his previous roles, he has authored or coauthored over 30 special education publications, collaborated with software developers to create products specifically geared to the needs of SLPs, and managed groups of editors to meet deadlines and produce quality content. Currently, he trains faculty and students to use computer-based simulations successfully.
"I am proud to be a part of the Simucase Education Team. I believe that Simucase has the potential to truly revolutionize clinical training in universities."

Brenda Blunt, MEd
Simucase Support Manager
From 3-year-olds to adult learners, Brenda has been serving as an educator for nearly 25 years. A graduate of Purdue University, Brenda has worked in early education settings, elementary schools, and at the university level. She has been an integral part of the Simucase team since 2013.
"By working with faculty and students directly, I have the unique opportunity to see how the case studies are incorporated into a course and watch the students grow professionally as they get to know the variety of clients on Simucase."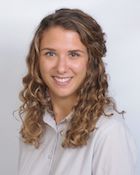 Emily Gherghel, PT, DPT
Lead Learning & Simulation Developer, PT
Emily is a physical therapist with experience in various adult rehabilitation settings and holds licensure in multiple states having practiced across the country. She earned both a bachelor's in English and a Doctor of Physical Therapy degree from Misericordia University. She has authored research published in the Journal of Pediatric Rehabilitation Medicine and is certified in the modified New Zealand Otago Exercise Program for the prevention of falls by the Carolina Geriatric Education Center. She is passionate about how simulations can elevate physical therapy education and the profession as a whole.
"It is the greatest honor to be able to serve clients and share their stories, network with fellow colleagues, create innovative educational tools, and work alongside a brilliant team at Simucase."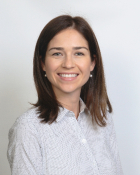 Maura Lavelle, MS, OTR/L
Manager, Learning & Simulation Development
Maura is an occupational therapist who has worked in adult rehabilitative medicine across various care settings. In addition to practicing as a clinician, she has experience in robotics, cutting-edge technologies, and clinical trials for neurological populations. Maura is a Certified Telehealth Facilitator and a peer reviewer for the American Journal of Occupational Therapy. Her research interests include the use of technology platforms for motor and learning outcomes. Maura holds a master's in occupational therapy from Columbia University and a bachelor's in human development from Cornell University.
"It is a pleasure to work with the inspiring and dedicated Simucase team. We are thrilled to be bringing this innovative platform to the occupational therapy profession."
Questions?
If you have questions or are interested in a free trial, our expert customer service staff would love to hear from you.